Meteorology is the study of the atmosphere and its phenomena, especially the study of weather and weather forecasting. When you need more weather information than a basic weather map or local weather forecast, you may find these meteorological resources useful. On these sites you will find historical climate data, weather and climate trends, information about earth's atmosphere and oceans, and fascinating weather-related stories.
Raindrops Splash into a Puddle of Water
Weather Reports and Meteorology Information
Related Meteorological Site
Barometers
Features an introduction to mercury and aneroid barometers plus a directory of barometer and weather instrument suppliers.
www.Barometers.us
---
Copyright 2005-2021 Zeducorp.
All rights reserved.
For your convenience, certain links will open in new windows.
WeatherMap.us is a Chosen Sites™ information source.
Weather Reports
Related Stormy Images
Stormy Weather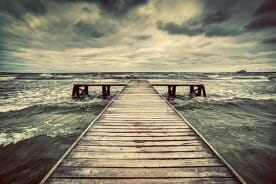 Wooden Jetty On A Stormy Day